news
nj
Golden Nugget Online Casino Keeps Setting New Revenue Records
Month after month Golden Nugget Online Casino continues to dominate the competition in online casino revenue. Moreover, with each passing month, Golden Nugget has been setting new records.
100% up to $1,500 + 200 Bonus Spins on Deposit
100% up to $1,500 on Deposit

Plus 200 Bonus Spins on 88 Fortunes
Use Bonus Code: PLAYBONUS
Meanwhile, its competitors, though unable to catch the leader, are also showing big gains.
Is the NJ online casino gravy train likely to slow down anytime soon? Apparently not.
Golden Nugget NJ – 4th straight record-breaking month
According to the latest data from the Division of Gaming Enforcement (DGE), in October 2019, Golden Nugget not only continued to lead the pack in NJ online casino revenue but shattered its own previous monthly revenue for the fourth month in a row!
The record-breaking streak started in July when Golden Nugget NJ registered $14.89 million in revenue. That was followed by $14.98 million in August.
However, In September, Golden Nugget's gaming revenue topped $15 million for the first time ever. Then, in October, Golden Nugget did even better, with total gaming revenue exceeding $16 million!
2019 is shaping up to be a banner year for Golden Nugget
Even with the revenue figures for the last two months of 2019 not yet available, the yearly revenue at Golden Nugget Online Casino for 2019 has already surpassed the 2018 amount.
Its 2018 total was $104 million, and the 2019 figure is already more than $140 million. Assuming the casino's business continues at the same monthly pace ($14.09) or better, Golden Nugget should close out the year with revenue of at least $169 million.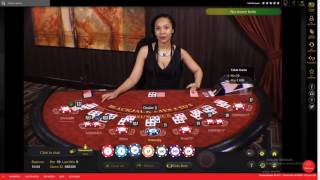 Golden Nugget's NJ online gambling partners have also contributed significantly to the bottom line
Four NJ gambling websites are currently operating under the Golden Nugget umbrella.
Golden Nugget NJ Casino and Sports
Golden Nugget's flagship website continues to set the gold standard for other NJ online casinos to emulate. Not content to offer a couple of hundred games or less like some of its competitors, Golden Nugget clearly subscribes to the premise "the bigger, the better," and the same is true of this casino's promotions.
As of this writing, Golden Nugget is one of the largest of all of the NJ online casinos with 686 games, including 634 slots. Golden Nugget was also the first NJ online casino to install Live Dealer games.
Golden Nugget also offers an online and mobile sportsbook so players who want to bet on both casino games and sports can move back and forth seamlessly from one platform to the other and use the same account for both.
Last year the sportsbook struggled because the site could not take any action on the NBA. The problem was that owner Tilman Fertitta also owns the Houston Rockets.
Starting with the 2019-2020 season, however, Golden Nugget received permission to offer NBA betting on all games except those involving the Houston Rockets. This is helping to boost business at the Golden Nugget online sportsbook considerably.
Betfair Online Casino and its new partner FanDuel NJ Sportsbook are also doing very well. Just like Golden Nugget uses a single wallet system that allows players to use the same account to bet both casino games and sports, so do Betfair and FanDuel.
Betfair also offers the most generous sign-up bonus for new players of any of the NJ online casinos–a 100 percent deposit match bonus on the first deposit up to $2,500.
PlaySugarHouse Online Casino
PlaySugarHouse attracts players of all levels due to its large and varied game collection and innovative promotions. While the deposit match bonus for first-time depositors is capped at a relatively small $250, players love the fact that it comes with a mere 1x bonus wagering requirement, making it in effect a risk-free bonus.
BetAmerica NJ is Golden Nugget's newest online partner. It is the only one that offers horse racing betting along with casino games and sports betting, making it the perfect destination for NJ online and mobile players who want the added convenience of one-stop gambling.
Rank
Casinos
Bonus
Features
Play
100% Up To $2,500 On Deposit
PLUS 2,500 Rewards Credits on $25+ Wager
Use Promo Code: PLAY2500

$25 Freeplay® On Sign Up
100% Deposit Match up to $1,000
Use Bonus Code: PLAYNJFREE
$25 Casino Bonus
Exclusive On Sign Up 
100% Match Up To $1,000
PLUS $25 Free On Sign Up
PLUS Win Up to 1,000 Spins on Deposit
To Claim: Click Play Now
500 Bonus Spins
+ Up to $500 Deposit Match
100% Deposit Match up to $500

Plus 500 Bonus Spins
Slots, Live Casino, Blackjack, Roulette & more

To Claim: Click Play Now
UP to $500 Back
In First 24 Hours
100% of Losses in First 24-Hours up to $500 Back 
ONLY 1x Play Through on Bonus Money!
Use Affiliate Code: PLAYCAS

$35 Casino Credits
On Sign Up
$35 Casino Credits on Sign up PLUS
Play $5 and Get $100 in Casino Credits Instantly
OR Get a 100% Deposit Match up to $250

To Claim: Click Play Now

$1,000 Bonus
100% Match on First Deposit
100% up to $1,000 on Deposit
300+ Casino Games
To Claim: Click Play Now

Other NJ online casinos are also on the upswing
While Golden Nugget and its NJ online gambling affiliates continue their firm hold on first place, other NJ online casinos and sportsbooks are also reporting increased revenue.
NJ online casinos and sportsbooks ended the summer on a strong note with a combined revenue for August of $60 million (over $41 million even without counting sports betting), only to eclipse that figure in September and again in October.
Another impressive fact, as reported on www.playnj.com, that in seven of the first 10 months of 2019, including October, combined online casino revenue (including online poker but not sports betting) set a new record.
Furthermore, in October, for the first time ever, two NJ online casinos reported gaming revenue of over $10,000–Golden Nugget and its closest competitor, Resorts. The Resorts figures include those of its NJ online casino gambling partners DraftKings and PokerStars.
In fact, the combined revenue for October 2019 just for Golden Nugget and Resorts Online Casinos and their affiliates exceeds the figures for the entire NJ online casino market for 2018.
Revenue figures for October compared to August and September
Being that August is a relatively slow month for sports betting, it is not surprising that the lion's share of the $60 million in total NJ online gaming revenue that month came from casino gambling. Compare the August figures shown below with those for September and October, and you will see that over the course of the next two months, sports betting made an increasingly greater contribution to the bottom line.
That trend should continue when the November and December results are tabulated. With the NFL season winding down and college bowl games on the horizon, and other popular sports like the NBA, college basketball, and hockey added to the mix, could NJ online sports betting revenue actually eclipse casino gambling revenue? It's possible.
August 2019 Total NJ Online Gambling Revenue: $60,300,978
Casino games: $39,392,256
Sports betting: $19,200,391
Poker: $1,708,331
September 2019 Total NJ Online Gambling Revenue: $70,456,578
Casino games: 39,499,341
Sports betting: $29,318,321
Poker: $1,638,916
October 2019 Total NJ Online Gambling Revenue: $83,919,286
Casino games: 43,574,226
Sports betting: $38,704,731
Poker: $1,640,329
Summary and Conclusion
The only form of online gambling which continues to be disappointing is poker. See my Dec. 9 article "What's The Deal? Is NJ Online Poker Just Dead Now?" on New Jersey Online Casino where I offer some explanations for the decline of NJ online poker. But whether or not you include poker in the equation, the phenomenal popularity of both online casino gambling and sports betting in New Jersey has contributed to one record-breaking month after another.
Will the new records set in October, not just for Golden Nugget, but for all NJ online casinos combined, be shattered again in November and December and will NJ online and mobile gambling become even bigger in 2020? I wouldn't bet against it.