news
Evander Holyfield Challenging Mike Tyson to Third Bout
Apparently the coronavirus pandemic is giving former boxing legends the impetus to consider coming out of retirement. Following Mike Tyson's workout footage appearing on social media, one of his biggest rivals is challenging him to a fight.
Claim Your $1,400 Bonus at DraftKings Sportsbook

Up to $1,400 BONUS
New User Bonus. T&Cs Apply
DraftKings Promo: Bet $5 Get $200
PLUS Up to $150 in No Sweat Bets

PLUS $50 Bonus Bet On Deposit

PLUS Up to $1,000 Deposit Bonus
Gambling Problem? Call 1-800-GAMBLER

To Claim: Click Play Now
Former heavyweight champion Evander Holyfield, now 57, defeated Tyson twice, once ending in a disqualification after Tyson bit the then-champ's ear.
Over two decades later, the "Real Deal" wants to finalize the trilogy.
In his footage, Holyfield shows the hand speed and skills that made him one of boxing's biggest draws in the 90s. He looks lean and in shape.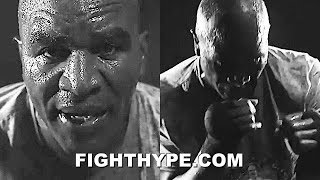 Tyson vs Holyfield #3
But does that mean he should fight a 53-year old Tyson? And is this something we actually want to pay to see?
Tyson has been offered $20 million to fight a younger opponent in the Bare Knuckle Boxing promotion by its president.

Holyfield has offered to make the final bout of his rivalry with Iron Mike a charity fundraiser.
Despite the four years of age between them, the optics make it seem like the difference is greater. His son Elijah is currently on the Philadelphia Eagles' roster. Usually, that's a sign an athlete is beyond prime years.
If it happens (and that's a big if), there will be one element that this fight will have that modern heavyweight boxing is honestly missing: the sizzle. Holyfield and Tyson are very entertaining to watch in the ring separately.
Rank
Sportsbooks
Bonus
Features
Play
$1,000 first bet
On Caesars
Up to $1,000 Back as a Bonus Bet if Your Bet Loses
Stream NFL Games In-App for Free

Use Promo Code: LEGAL1000

Bet $1, Get $365 Win or Lose
30% Extra on Same Game Parlay Profit
Gambling Problem? Call or TEXT 1-800-Gambler 21+

To Claim: Click Play Now
UP TO $1,500
In Bonus Bets
$1,500 Paid Back in Bonus Bets

Free Live Streaming - Watch Live Games
Use Bonus Code: PLAYBONUS

The first fight went 11 rounds before Holyfield won by TKO. Even if they agree to fight eight rounds or less, there will be an excitement to the bout that not even current world champ Tyson Fury can match.
If Tyson takes this fight, it will likely be a lead-up to his entry into bare-knuckle fighting. Likely, he won't leave himself too vulnerable before such a tremendous payday.
Even if they wear headgear and shuffle around the ring slower, there's still the possibility of those big punches landing and exciting the crowds as they have decades earlier. That alone has piqued our attention and will keep us on alert.